When it comes to choosing the best nail colors for pale skin tones, there are a few things you need to keep in mind. First, you need to consider what season it is. For example, in the winter you might want to go for a darker color like navy or black, whereas in the summer you might want to choose a brighter color like white or pale pink. Here's how skin tone affects your choice of gel polish and which color to choose for different skin tones.
Skin tone and polish – what's the connection?
You've probably noticed that on some women's nails red looks expensive and elegant, while on others… not particularly harmonious.
Of course, it's the length and shape of the nails, but not the last place is taken by the tone of the skin. There are more successful shades, and then there are less successful shades.
Below, we'll give you recommendations to help you find the best shades of nail polish, but first, look at your hands and decide which of the five types it belongs to:
Pale. Pale or porcelain skin most often has a bluish or greenish undertone. The skin is usually thin, as if transparent, so veins are clearly visible.
Light. In this case, the skin is quite dense and the veins are not so prominent. The undertones are usually peach or pink – there is no bluish or greenish hue.
Sunburned. An intermediate, medium color that's still not dark enough, but you can't call it light either. It feels like you're just a little bit browned in the sun.
Olive. Moderately swarthy skin that has yellow-green undertones at its core. It appears warm and dense on one side and pale on the other. If the skin on your hands is not sufficiently moisturized, it may look earthy.
Dark. It is based on golden-brown hues that radiate warmth. The skin of the hands is quite dense, with no veins showing through.
In addition to the shade, pay attention to the temperature of the skin of the hands – it can be warm or cold. The first category is characterized by a yellow undertone, the second by a blue undertone.
If you want to know more about your skin tone, have a look at our in-depth guide, "How to Identify Your Skin Tone and Color Type.
We've got your skin tone sorted out. Now let's see what nail polish colors to choose for your skin tone.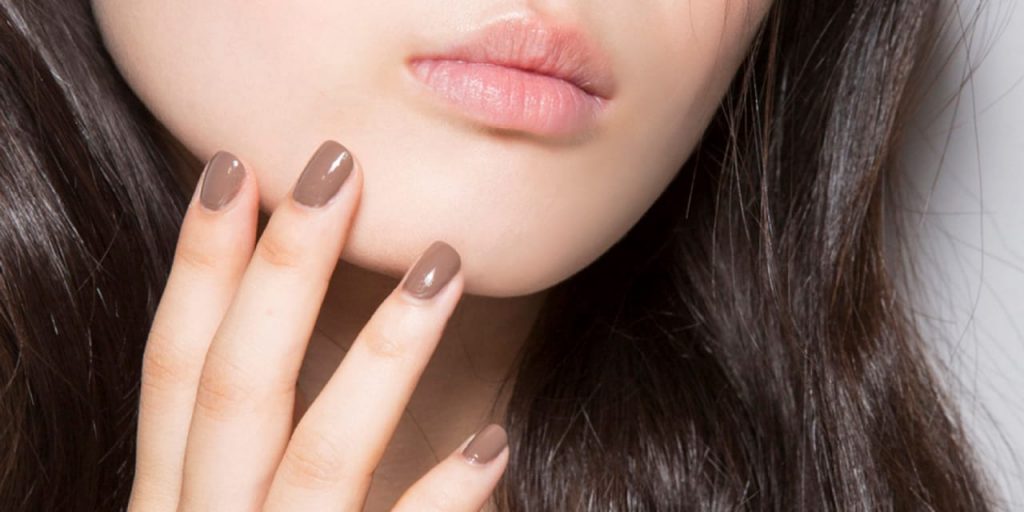 Pale
Pale skin on the hands looks noble and aristocratic. Since we are most often talking about a cold undertone, it is better to choose colors with a pink or blue tone in the base for manicure.
Suitable nail polish colors for pale skin tones:
blue and pink pastels;
silver;
options with dense sequins;
moderate blue;
grassy green.
Warm shades are not suitable for pale skin, such as peach – it will be discordant with the cold undertones. It is better to give up and from the dark colors of gel-lacquer – they emphasize pallor and highlight all the shortcomings: wrinkles, cracks, dryness.
Light
Light skin on the hands is more variable in terms of the choice of gel polish, but the best option will be simple shades. Anything complex, multifaceted and deep draws attention and makes the hands not noble-light, but neutral and unremarkable.
Suitable nail polish colors for light skin tones:
purple, plum;
pale pink;
white and black;
greenish-blue;
classic navy blue.
Sometimes red shades are advised for fair skinned hands, but we recommend avoiding the entire red palette, as well as polishes and gel-lacquers in orange and yellowish tones. They give an unnecessary undertone that makes your hands look sore.
Tanned
Nail color for girls with tanned skin should be quite bright – everything neutral, light and nude will be lost against the background of intense skin color.
Suitable nail polish colors for tanned skin tone:
saturated pink;
violet;
blue;
yellow.
Neutral shades are not recommended, especially flesh tones – on both long and short nails, with tanned skin on the hands, they look aloof and inappropriate.
Olive
Skin with an olive shade will suit both warm colors with yellow undertones, and cool gel lacquers with blue in the base. This is due to the neutrality of olive skin tone – it is neither warm nor cool.
Successful gel polishes for skin tone with an olive hue:
gold;
peach;
yellow;
Metallic silver;
blue.
Of the undesirable colors: red, dark purple and dark blue – with them your hands will get unwanted shades.
Dark
Gel nail polishes with deep, complex shades work well on dark skin on the hands. This is one of the few types that perfectly suits both light and going to black colors.
Ideal shades of nail polish for swarthy skin are:
mocha;
beard;
dark red;
dark green;
Chocolate brown.
To achieve a harmonious combination of nail color with the skin of the hands will not work if you choose bright hues, such as orange or teal-white. Brushes will look dull against them.