Whatever the century will be and however developed this world may turn to be, some things will always remain classy. One of these few things is definitely french manicure. Artistic or classic one, the very idea of adding a line over the natural nail polish seems to be one of the greatest discoveries in the world of manicure and designs. Why so? Well, because it allows to play with colors, textures, designs and at the same time falls into one and only classic category of french manicure.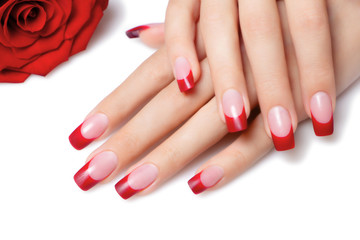 For those wondering whether white stripe on white french nails is an outdated option, we prepared an answer. No, it is definitely not. However, as in anything in the world, there are ways to make it more interesting and attractive and this is your creativity. In this article we will look at the ways to modify the well-known white french nail design and make it a piece of art rather than a simple nail cover for a two or three-week period of time.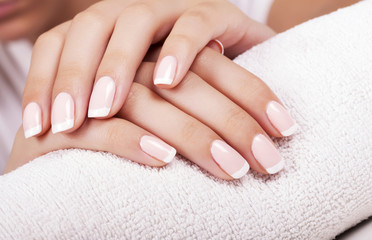 Variations On Classic French Manicure
There are many ways for people to express themselves and thus impress others. One of these ways is manicure. In case you are a person devoted to a classic version of French nails, this article is not for you. As you will most likely treat all our suggestions with contempt and be true to your lifelong choice. This situation also has place to be.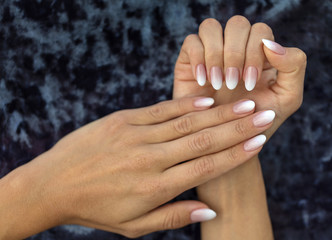 For others, though, these are some of the best ways to diversify the nails designs you are used to and color your life even more:
black rainbows:

only imagine the black base and colorful stripes. This will not only help you distribute the message of equality and acceptance but will also bring a rainbow in some gloomy times you might currently experience;

black and white graphics:

play off your white French tips with hyper-graphic details in black and do not be afraid to stand out;

monochrome split:

you can use two different colors for this one and also are free to choose a design pattern. The basic logic here to follow is to keep the contrast on the monochrome base.
In conclusion, when opting for a classic French manicure or one of the design variations, make sure to reflect on how you feel. If you are in a rather playful and easy-going mood, then choosing a design solution will work the best. For this case, your options are black rainbows or graphics. For those especially devoted to classic French nails, it is always nice to know the alternatives but staying true to what you feel is the right choice matters the most!